Sudan's President Omar al-Bashir has been removed by the military after months of anti-government protests against his three-decade rule.
General Ahmed Ibn Auf was sworn in on Thursday evening as chief of a new military council that will rule the country for two years, hours after declaring that Sudan's long-time ruler had been overthrown and arrested.
The coup and installation of the council was rejected by the protesters, who said the moves did not meet their long-standing demands for a civilian-led government.
Since December, Sudan has witnessed persistent protests sparked by rising food prices that quickly escalated into wider calls for al-Bashir's departure.
The latest crisis escalated on April 6 when thousands of demonstrators began a sit-in outside the army headquarters in the capital, Khartoum. Dozens of people have been killed in protest-related violence since the start of the demonstrations.
Here are all the latest updates:
Thursday, April 11, 2019:
Opposition leader: We will continue until end
Omer Eldigair, the leader of the Sudanese Congress party, rejects the military's statement.
"We will not accept half victory. We need the whole and complete victory as anticipated and wanted by our martyrs. Thus, the Declaration for Freedom and Change decided to continue the sit-in in front of the General Command's headquarters," he says in Khartoum.
"The citizens will also continue to take to the streets and be available in all squares here in the capital and everywhere nationwide. Don't be scared and don't retreat as we will continue our path until the end."
Protesters in Khartoum defy military curfew
Thousands of demonstrators in Sudan's capital remain outside the army headquarters in defiance of a curfew (10pm-4am) announced earlier by the military.
Al Jazeera's Hiba Morgan, reporting from Khartoum, says: "People are still in front of the army headquarters although an announcement has been made on state television by the interim military council, which is currently running the country, that the curfew has effectively been put in place and that people should leave the army headquarters and go back to their homes."
Protesters are chanting their slogan "peace! justice! freedom!" as they continue their sit-in for a sixth consecutive night, according to AFP news agency.
A Sudanese protester demonstrates with a national flag during a demonstration against Sudan's new ruling military council [Ashraf Shazly/ AFP]
Here's 10 iconic pictures from Sudan's popular protests
Ibn Auf sworn in as chief of new military council
Sudan's state television says Ibn Auf has been sworn in as chief of the new military council that replaced al-Bashir.
Lieutenant General Kamal Abdel Marouf is appointed as his deputy. Footage shows both men taking the oath in the presence of the chief of the country's judiciary.
EU urges Sudan army to carry out 'swift' handover to civilian rule
Federica Mogherini, EU diplomatic chief, is urging Sudan's army to quickly hand over power to a civilian government.
"Only a credible and inclusive political process can meet the aspirations of the Sudanese people and lead to the political and economic reforms the country needs," Mogherini says in a statement.
"That can only be achieved through a swift handover to a civilian transitional government," she adds.
US: Sudanese people should be allowed peaceful transition
The US says it supports a peaceful and democratic Sudan and believes the Sudanese people should be allowed a peaceful transition sooner than two years from now.
"The Sudanese people should determine who leads them in their future," says Robert Palladino, spokesman for the Department of State. "The Sudanese people have been clear that they have been demanding a civilian-led transition. They should be allowed to do so sooner than two years from now."
Sudan military seizes power from al-Bashir: Full statement
Read the English translation of the Arabic statement delivered by Ibn Auf's on al-Bashir's overthrow and arrest here
Sudanese protesters flash the victory gesture and raise a sign reading in Arabic 'Just fall, that is all, the whole regime' during a demonstration against Sudan's new ruling military council [Ashraf Shazly/AFP]
Awad Ibn Auf, the face of the Sudan coup
It was the man named by al-Bashir as his deputy just six weeks ago who broke the news to the Sudanese people of the longtime ruler's removal.
Dressed in army fatigues, General Ahmed Awad Ibn Auf declared on Thursday that the 75-year-old had been overthrown and arrested following months of nationwide protests against his three-decade rule.
Who is he? Read our profile of Ibn Auf here
Sudan army 'to enforce' night-time curfew
Sudan's army warns it will enforce a night-time curfew, state media reports, as protesters vowed to continue demonstrating against a military council set up after al-Bashir's removal.
The curfew runs "from 10:00 pm to 4:00 am, and all must adhere to it for their own safety," the army says in a statement carried by the official SUNA news agency. It adds it is "doing its duty to keep them [Sudanese people] and their properties secure".

the struggle continues… #thawra #Sudan2,4885:50 PM – Apr 11, 20191,000 people are talking about thisTwitter Ads info and privacy
Read more about protesters' vow to continue Khartoum sit-in here
Turkey urges 'reconciliation' as UK calls for 'real change'
Turkish President Recep Tayyip Erdogan says he hopes Sudan can overcome its upheaval peacefully through "national conciliation" and urges it to try to operate "a normal democratic process".
"My greatest hope is that Sudan overcomes this process through national conciliation and peacefully," he says in the Turkish capital, Ankara.
Separately, Jeremy Hunt, Britain's foreign secretary, says two years of potential military rule in Sudan "is not the answer" for "real change" in the country.View image on Twitter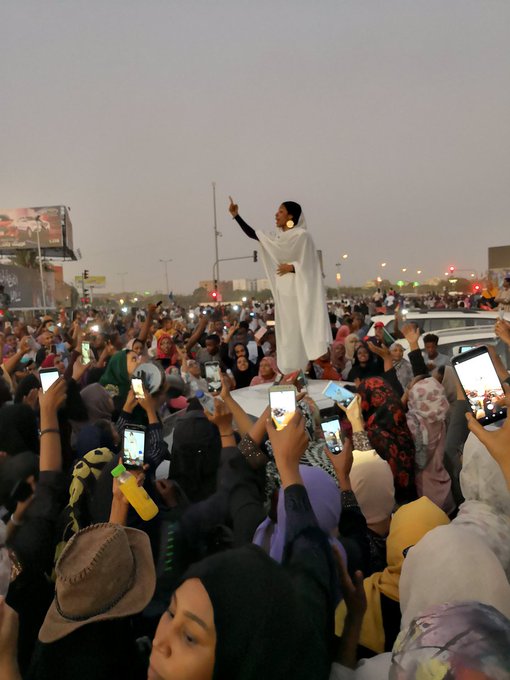 #Sudan's brave people have called for change, but it must be real change. A military council ruling for 2 years is not the answer. We need to see a swift move to an inclusive, representative, civilian leadership. And we need to ensure there's no more violence.

: @lana_hago3832:53 PM – Apr 11, 2019370 people are talking about thisTwitter Ads info and privacy
UN chief urges democratic transition in Sudan
Antonio Guterres, UN secretary-general, is calling for an inclusive transition in Sudan that will meet the "democratic aspirations" of the country's people.READ MORE
He also urges "calm and restraint by all" in Sudan.
The United States and five European countries are meanwhile calling for a closed-door UN Security Council meeting on Sudan on Friday.
AU: Army takeover 'not appropriate response'
The African Union criticises the ouster of al-Bashir by Sudan's armed forces and calls for calm and restraint.
"The military takeover is not the appropriate response to the challenges facing Sudan and the aspirations of its people," says a statement from Moussa Faki, chairman of the AU Commission.
Sudan protests explained (8:19)
Egypt backs al-Bashir's removal
Sudan's neighbour Egypt says it supports al-Bashir's removal and supports the "Sudanese people's choice and will".
In a statement, Egypt's foreign ministry also urges the international community to help Sudan achieve a peaceful transition.
Sudan protesters reject 'regime coup', vow more protests
Organisers of the protests for al-Bashir's removal are rejecting his toppling by the army as a "coup conducted by the regime" and are vowing to keep up their campaign.
"The regime has conducted a military coup by bringing back the same faces and the same institutions which our people rose against," the Alliance for Freedom and Change says in a statement.
Sudanese demonstrators gather in a street in central Khartoum immediately after al-Bashir was toppled by the army [Ashraf Shazly/ AFP]
"We all reject what has been mentioned in the coup statement issued by the regime … We call on our people to continue their sit-in in front of army headquarters and across all regions and in the streets."
Sudan's army arrests president, takes charge
The Sudanese defence minister and vice president says the military has overthrown and arrested al-Bashir and taken charge of the country for the next two years.
In an appearance on state TV, Ahmed Awad Ibn Auf says a state of emergency has been imposed for the next three months. He says the military has suspended the constitution and closed its borders as well as the country's airspace.
Ibn Auf also imposes a night curfew.
Read more here
A picture dated November 25, 2018, shows Sudanese Defence Minister Ahmed Awad Ibn Auf in Khartoum [File: Ashraf Shazly/AFP]
Sudan's al-Bashir 'steps down'
Government sources and a provincial minister say al-Bashir has stepped down and consultations are under way to set up a transitional council to run the country.
Adel Mahjoub Hussein, minister of production and economic resources in North Darfur, tells Dubai-based al-Hadath TV that "there are consultations to form a military council to take over power after President Bashir stepped down".
Sudanese sources tell Reuters news agency that al-Bashir is at the presidential residence under "heavy guard".
Tens of thousands of Sudanese take to the streets in the centre of Khartoum in jubilation, dancing and chanting anti-Bashir slogans. Protesters outside the defence ministry chant: "It has fallen, we won."