Theresa May is sticking to her Brexit strategy, despite her party rowing in the wake of her latest Commons defeat.
MPs rejected a motion endorsing her approach by 303 to 258, with 66 Tory MPs abstaining, leading one minister to accuse Brexiteer rebels of "treachery".
Steve Baker, of the backbench European Research Group which led the rebellion, called it a "storm in a teacup".
The PM will return to Brussels "within days", after her Brexit secretary met EU ambassadors in London on Friday.
Steve Barclay will also travel for further talks with the EU's chief negotiator Michel Barnier on Monday, with Parliament yet to back a deal ahead of the UK's withdrawal from the bloc on 29 March.
Mrs May is trying to renegotiate the Irish "backstop" after MPs voted to replace it with "alternative arrangements" earlier this month.
Some MPs fear the backstop – the insurance policy to prevent the return of customs checks on the Irish border – will see the UK tied to EU customs rules in the long-term.
Thursday's government motion called for MPs to back its renegotiating strategy, but ERG members believed it also meant endorsing calls to rule out a no-deal Brexit.
They say the option of leaving the EU without a formal deal offers essential "negotiating leverage" in Brussels. But a majority of MPs believe it would cause chaos at ports and massive disruption to business.
The EU has consistently ruled out changes to the backstop.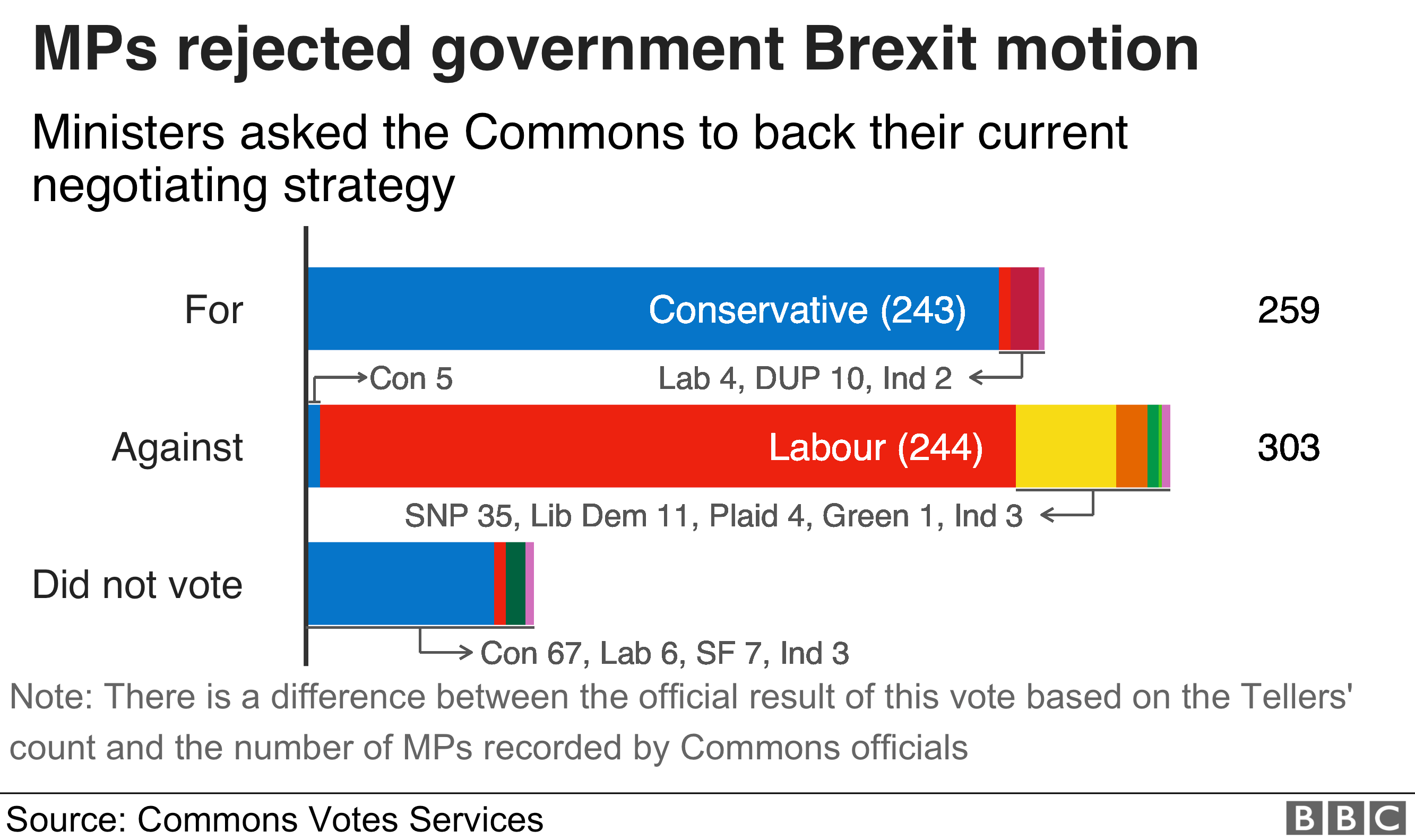 The latest government defeat has no legal force and Commons Leader Andrea Leadsom told BBC political correspondent Iain Watson the PM would return to Brussels for talks in the coming days.
Ms Leadsom also told BBC Radio 4's Today programme the loss represented "more of a hiccup than the disaster that is being reported".
"[Mrs May] will continue to seek those legally binding changes to the backstop that will enable Parliament to support our deal," she added.
---
Tough choices
Analysis by BBC political correspondent Iain Watson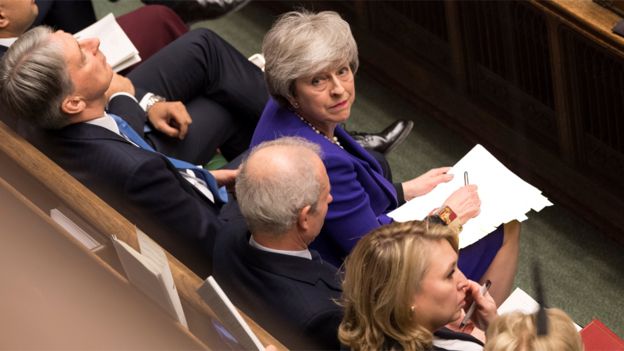 Theresa May had a choice.
Abandoned by the ERG, she could have tried to build cross-party consensus by pivoting towards a customs union.
This option is favoured by Labour's frontbench and quite a few Conservatives, and Brussels feels it has potential to deliver a stable parliamentary majority.
But many in her grassroots would have pointed out a broken manifesto promise, and even re-badging it as a "common customs territory" might have caused a split.
So, the PM returns to Brussels to eke out changes to the backstop, and hopes to detach enough Labour MPs to help get a deal over the line by promising new employment laws.
If there is no revised deal before March, however, some ministers might abandon ship and urge her to delay Brexit.
But doing just that might convince some in the ERG to return to the fold, persuaded to back what they see as a bad deal over a delayed, maybe even endangered, Brexit.
---
Mrs Leadsom blamed Labour for "playing politics" to defeat the government.
But the chair of the Exiting the EU committee, Labour's Hilary Benn, said Mrs May had rejected party leader Jeremy Corbyn's proposed alternatives and instead sought approval from Tory Brexiteers.
"As long as the prime minister continues to try and keep the ERG on-side… we are not going to make any progress," he told Today. "We have to compromise."
'Irritating… unnecessary'
Defence Minister Tobias Ellwood told BBC Newsnight the ERG was a "party within a party… flexing its muscle" to take advantage of Mrs May's lack of a Commons majority.
He called the group's actions "irritating, provocative and… unnecessary".
Business Minister Richard Harrington told The House magazine ERG members should defect to Nigel Farage's new Brexit Party – a move the former UKIP leader called "a jolly good idea".
But Transport Secretary Chris Grayling told the BBC: "That's not a sensible approach. The Conservative Party is a team – there's far more that unites us than divides us."
Former Education Secretary Nicky Morgan called for the Conservatives to take a "collective deep breath" and resolve matters to avoid a no-deal scenario.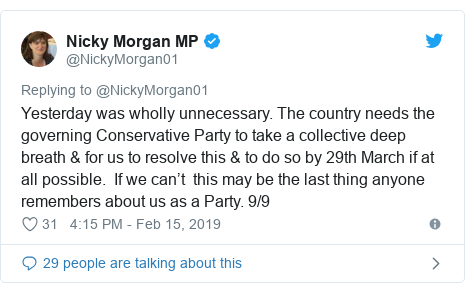 Mr Baker, the ERG's deputy chairman, told Today he was "standing up for what the majority of the people voted for", while still "making enormous compromises".
But he added: "[The EU] should also understand that there are those of us unwilling to vote to take a no-deal off the table."
Former Attorney General Dominic Grieve accused the Conservative Eurosceptics of being "completely cavalier about the risks" of leaving the EU without a formal withdrawal agreement.
And he suggested a dozen or more ministers – including six in the cabinet – might resign if Mrs May refused to extend Brexit talks beyond 29 March.
Asked whether she would resign if there was not a deal before the end of the month, Work and Pensions Secretary Amber Rudd said she planned to work with all colleagues to help the PM get her withdrawal agreement through Parliament.
As to whether the ERG were "traitors", she responded: "No, certainly not."
How did my MP vote on 14 February?
Enter a postcode, or the name or constituency of your MPType in 2 or more characters for results.
Meanwhile, Irish foreign minister Simon Coveney suggested the UK could expect a "generous response" to any request to extend the withdrawal process beyond 29 March.
Speaking at a Brexit event in Dublin, he said: "With the practicalities around European elections, the establishment of a new European Commission… there is a natural extension date until the end of June perhaps."
However, Irish PM Leo Varadkar said anyone expecting the EU's solidarity over the Irish border issue to crumble at the final hour was in for a "nasty surprise".
---
Going nowhere fast?
By BBC Europe editor Katya Adler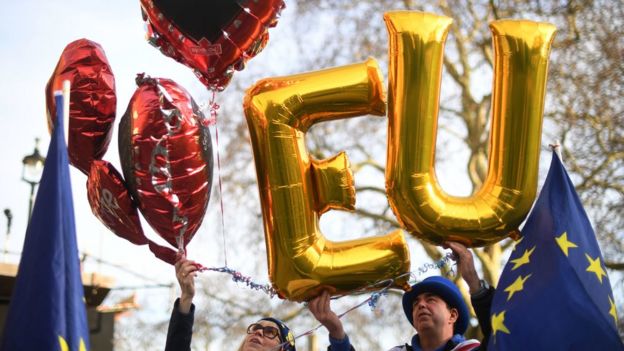 EU leaders still believe this is not the time to budge.
They see the UK arguing, debating and negotiating with itself again – as it has done so often during the Brexit process – rather than engaging with Brussels.
As a result of all this, the new round of EU-UK negotiations are going nowhere fast.
"Window-dressing" is how one senior EU figure described the talks to me, with each side simply repeating their red lines to the other.
So, the current favourite prediction in Brussels is that things will only be resolved in March.
Source:BBC